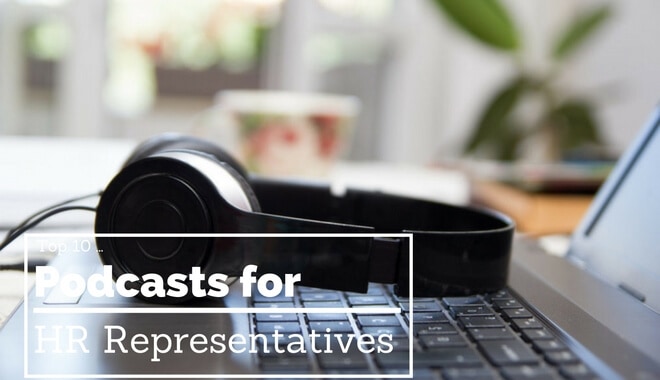 Your morning commute into work is the perfect time to catch up on the latest podcasts, and since the industry is in the middle of a strategic revolution, there has never been a better time to discuss relevant HR issues.
Your issue becomes how to prioritize your time when there are so many excellent podcasts to choose from. Who should you be following regularly? Where do you start?
Don't worry; we've got you covered. We've compiled a new list of the top 10 podcasts for HR reps in 2017. Take a minute (or a 100) and check out the goodness that each one has to offer:
1. Human Capital Institute Podcasts
---
One of the industry's most long running podcasts with more than 270 episodes underneath their belt, the hosts of HCI delve into a wide range of HR related and workforce management topics, including how to apply HR data effectively, recruiting, and how to craft an excellent employer brand.
Each episode is chock full of helpful information.
2. DriveThruHR
---
Capped at thirty minutes, each episode of the DriveThruHR podcast is designed to be simple to digest and captivating – something you can easily listen to over your lunch break. Each airing features a guest speaker who shares his or her experiences and knowledge in the HR profession.
The hosts and their special guests cover a wide variety of topics ranging from organizational culture to HR technology.
3. Hiring on All Cylinders
---
This podcast, which is hosted and produced by software giant Entelo, launched in early 2016, and to date, has produced over forty episodes. Special guests have included the senior tech recruiter of Zenefits and the head of global talent for Booking.com.
Past discussions have covered how to recruit talent, diversity in recruiting, and how to conduct a Boolean search.
4. Invisibilia
---
Invisibilia incorporates the stories of real life individuals with the newest scientific and psychological research to explore the forces that guide and dictate human behavior.
Episodes will offer surprising insight and information into what influences an employee's behavior within a team and how a group operates in its thinking.
5. The Employment Law & HR
---
This podcast brings listeners up to date on the newest changes in employment and best practices in a simple to digest, understandable format.
Employment law often changes on a daily basis, and with the other demands of the job, it is often difficult for HR managers to remain on top of the newest developments. Most episodes are aimed at HR managers in the UK, but some do touch on employment laws in the United States.
6. RTW Nation
---
Hosted by Mark Stipic, this podcast takes the oft boring topic of workers benefits and compensation and makes it interesting by bringing in a number of professionals as its guests. On average, the podcast produces four new episodes each month.
Subject matter for its episodes ranges from using the principles of sports medicine and applying them to work injuries to office ergonomics to rehabilitating injured workers.
7. Planet Money
---
Produced by National Public Radio (NPR), Planet Money likes to describe itself as "the economy explained". Guests are the brightest and best experts from the world of finance.
While the economy is often a taboo topic these days, it has a direct bearing on the choices HR managers make on a daily basis, and because HR managers are routinely responsible for managing benefits and payroll, there are benefits to knowing what is happening on a global scale.
8. TotalPicture
---
TotalPicture uses its podcasts to interview recruiting and HR practitioners, thought leaders, HR technology vendors, and subject matter experts to provide its listeners with actionable information and cutting edge content.
Commonly discussed topics include talent acquisition, leadership, staffing, and innovation. TotalPicture also routinely covers the latest happenings and developments at leading industry conferences, like HR Tech and Recruiting Trends.
9. HRExaminer Radio Hour
---
Hosted by John Sumser, this relatively young HR podcast has quickly developed a large following. Offered in a 30-minute format, the host and guest discuss emerging ideas and practices in recruiting and HR. Examples of previous guests include Imo Udom, the CEO of WePow.
10. HBR Ideacast
---
Published by the Harvard Business Review, Ideacast essentially offers a crash course in management and leadership that is taught by industry leaders. Having published more than 400 episodes to date, this prolific podcast covers topics like negotiation in ethics, productivity, and HR jargon.
Each episode clocks in at just 20 minutes – making it the perfect podcast to listen to when you're short on time.
Is there a particular thought leader that you like listening to? If we didn't list your favorite talent management podcast above, drop us a line in the comments section below, and let us know about it!