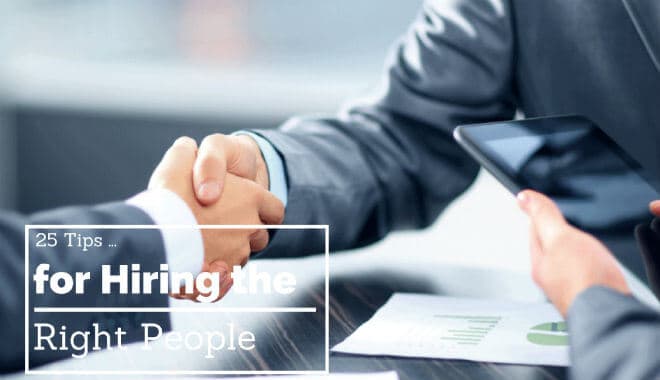 Most HR managers will tell you that their worst mistake is hiring the wrong individual for the job. This significant error can be avoided if you are in tune with the culture and strengths of the business you work for. Regardless of the size of the organization you work for, it is crucial that each individual be an ideal fit for their job. This is why the hiring process is so important. It is used to identify candidates who have the necessary set of skills and whose values align with your organization's culture.
To assist you in your search for the perfect candidate, here are 25 tips for hiring the right people:
1. Write a Better Job Description
---
Did you know that the manner in which your job posting is written can deter excellent candidates from applying? Ideally, your job subscription should place an emphasis on what your organization can do for prospective employees. This will attract a higher caliber of applicants.
2. Make Your Career Site Mobile Friendly
---
A 2015 survey by PEW found that almost 30% of adult Americans have used their smartphone is some manner for their job hunt, which includes browsing available listings and filling out online job applications.
3. Focus on Social Intelligence
---
Social intelligence is the ability to work well with others and navigate social situations. Just because a person has the technical skills or work experience you are looking for does not necessarily mean they will be a good fit for your company. Communication skills and interpersonal skills are important – and they matter.
4. Research Applicants' Social Media Profiles
---
From a legal standpoint, it is risky to use a candidate's social media activity as a factor in your hiring decisions; however, social media can also provide you with a more complete picture of the person you are interested in hiring. It can also be used as a skills assessment.
5. Improve Your Interview Process
---
In a recent study by Leadership IQ, 82% of the 5,000 HR managers surveyed reported flaws in their interview processes with interviewers being too distracted, too inexperienced, and too pressed for time to notice red flags that candidates exhibited during the interview.
6. Let Candidates Ask Questions Too
---
Allowing prospective candidates to ask questions gives you a sense of what is important to them. It also provides them with the chance to decide if a job at your company is the right fit for them.
7. Pay Attention to Your Reviews
---
In a recent survey, 46% of Glassdoor.com users said that they read reviews on a company before they even speak to an HR representative. Top candidates won't apply if they don't like what they see, and 69% of respondents said that they would not take a job with a poorly rated company – even if they were unemployed.
8. Test Candidates' Analytical and Learning Skills
---
Different methodologies should be used to assess the learning and analytical skills of your applicants. While doing so might be tricky, you don't want to rely solely on their confidence and resume to as the basis of your hiring decision.
9. Get Others Involved in Your Hiring Process
---
During the evaluation process, it is always a good idea to involve other individuals. More opinions can lead to finding the right hire.
10. Hire Interns
---
While some might disagree, this is one of the best methods for hiring the right employee for your business. From practical evidence of work to their strengths and weaknesses, you know almost everything about them. Since you've already done the hard work in choosing an intern, why not consider them when looking to fill a permanent position?
11. Hire for Attitude and Optimism
---
You can teach most people the skills they need to fulfill a position. What you cannot teach is optimism, attitude, and interpersonal skills. When the chips are down, your business will be best served by positive and optimistic people.
12. Let Your Network Do the Work for You
---
Try placing an ad for your position only after you have comprehensively mined your established network of associates and colleagues. Likewise, referrals from your current employees can be worth their weight in gold.
13. Connect Talent with Opportunity via Linkedin
---
In particular, LinkedIn offers a premium Talent Finder service that will allow you to do more with the site's search functions, use InMail to contact prospective candidates, and organize profiles you are interested in.
14. Prescreen Candidates by Phone
---
Doing so saves a considerable amount of time during the interview and selection process. A candidate might look ideal on paper, but a prescreening interview will inform you whether or not their qualifications are congruent with what you desire.
15. Double Check References and Backgrounds When Hiring
---
This should go without saying, but you would be surprised at the number of hiring managers who fail to do a comprehensive background check. A background check should include educational credentials, former supervisors, employment references, and criminal history.
16. Prepare for the Long Haul
---
Sometimes, finding the right candidate for a position (and one who fits properly with the company culture) can take some time. For white collar positions, the hiring process can often take weeks or months. Don't be in a rush to find any old candidate, and make sure to prepare a contingency plan for covering the position in house while the hiring process is ongoing.
17. Always Look for Integrity
---
It is often more important than experience.
18. Look for Candidates with Experiences
---
In a recent survey, 48% of hiring managers admitted to giving preference to candidates that had experience in the hospitality or restaurant sectors (even if it was not directly relevant to their current industry) because these candidates tend to have the best work ethic and most empathy with others.
19. Let Your Applicant Do the Talking During the Interview
---
If you let a potential hire do 90% of the talking during an interview, you will be amazed at what they say and what they reveal about themselves. All you have to do is listen.
20. See How Well a Candidate Completes Assigned Tasks
---
Rather than interviewing based solely on the answers given during an interview, try assigning a candidate a few tasks they would be responsible for handling within the position. If they cannot complete the task within an allotted amount of time, they may not be a good fit for your position.
21. Don't Forget to Focus on the Future
---
Many hiring managers get caught up in focusing on what a candidate can bring to their company for the here and now. Look beyond what is directly in front of you. Consider what they can bring to your organization as it grows.
22. Create a Shortlist for Filling a Position
---
The second interview will serve to unveil the layer needed to make the final decision. If a candidate refuses to comply with this process, move on. You will be surprised at the number of excellent employees who give awful interviews.
23. Do Not Compromise
---
Never compromise when making a hire. You are better off waiting to find the right candidate than settling for a less than ideal one. A mediocre employee is simply not going to be able to provide you with best in class results, so don't compromise on your hiring standards.
24. Hire to Cover Your Weaknesses
---
A person whom you really "click" with or who is just like you will tend to have the same weaknesses you do.
25. Attitude Is Everything
---
Once again, attitude is everything. Skills can be taught. Attitude cannot.