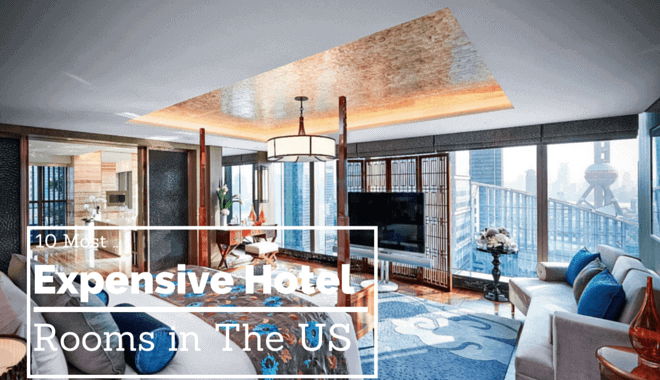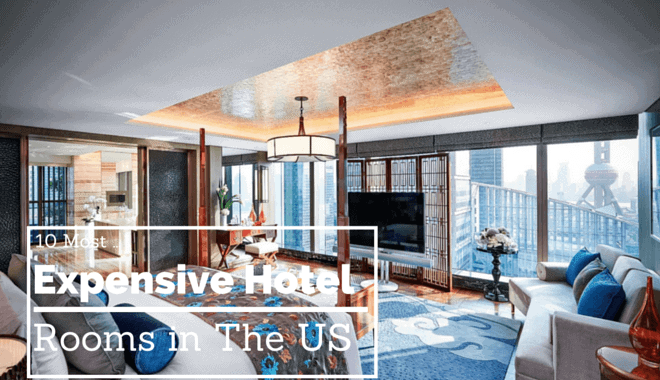 For the majority of travelers, a hotel is simply a place to crash after a long day of fun-filled activities. However, for those whom nothing but the best will do, there are a plethora of high-end accommodations to choose from (assuming you're willing to pony up the dough!).
We've compiled a list of the top 10 most expensive hotel room rates in the U.S. Although the accommodations will make you swoon, the accompanying price tag will make you cringe.
10. Mandarin Oriental, New York City, New York
---

$995.00
This world famous, five-star hotel boasts 46 suites and 196 rooms, and the lowest rate for a room is $995.00 per night. The hotel's largest suite measures 2,640 square feet in size. The hotel has an onsite restaurant where guests can enjoy $21.00 French Toast or $15.00 grapefruit segments.
9. Wheatleigh Hotel, Lenox, Massachusett
---

$1006.00
This stunning hotel is styled after the Florentine palazzos of Italy. Constructed in 1893, it is neatly situated atop a Berkshire knoll and offers stunning views of the surrounding mountains and lake. Although pricey, the room rates do include all of your meals!
8. Amangiri, Canyon Point, Utah
---
$1,284.00
The modern aesthetic of this hotel was designed to induce relaxation in guests, and the hotel faces the Grand Staircase-Escalante Park, which affords each room stunning views. The nightly room rate also includes select activities at the hotel and access to the hotel's famous pool.
7. Twin Farms, Barnard, Vermont
---

$1,698.00
With an average room rate of $1,698.00 per night, Twin Farms thinks of itself as beyond inclusive, and for good reason! The hotel provides free wine to its guests at any time of the day, same-day laundry service, and complimentary afternoon pastries in the foyer.
6. Ranch at Rock Creek, Philipsburg, Montana
---

$2,279.00
For those with discerning tastes, the Ranch at Rock Creek offers it all. The hotel charges a staggering $2,279.00 a night for a double occupancy room; however, the cost does include all of a guest's meals, and guests are provided with their own mountain bike to use upon arrival at the hotel.
5. Four Seasons Hotel, Washington, D.C.
---

$15,000.00
Situated in the heart of trendy Georgetown, there is no better way to experience all that D.C. has to offer than from the Four Seasons Hotel. Its most expensive room, the Royal Suite, boasts its own private study, private dining room, oversized soaking tub, and his and hers closets.
The nightly price also includes shopping services and personalized concierge service.
4. Beverly Hills Hotel and Bungalows, L.A., CA
---

$17,300.00
This hotel caters to the elite of the elite, and famous past guests range from Marilyn Monroe to Marlene Dietrich.
Its most expensive bungalow, the Presidential Suite, boasts 5,000 square feet of living space, three bedrooms, a private patio with pool, and private exercise area. As an added bonus, you'll also be given your own personal chef for the duration of your stay.
3. New York Palace, New York City, New York
---

$19,000.00
For a mere $19,000.00 per night, the Presidential Suite at the New York Palace will allow you to live like a king. Outfitted in hues of sage green and gold, the room's décor was inspired by French kings of yore.
Even the his and hers bathrooms are outfitted in Italian marble, and the room offers 4,000 square feet of living space.
2. The Plaza Hotel, New York City, New York
---

$30,000.00
If you're willing to spend the dough, you can enjoy the ultra-luxurious Royal Plaza Suite at The Plaza Hotel in New York. The price includes the services of a personalized chef during the duration of your stay and round the clock butler service. You'll also get a variety of elite amenities, like a fully stocked library.
1.The Four Seasons Hotel, NYC, New York
---

$40.000.00
The Four Seasons Hotel makes its second appearance on this list with the Ty Warner Penthouse Suite at its New York location. What will $40,000.00 a night buy you? The answer includes an art concierge, 24-hour butler, a personal trainer, and a Rolls Royce chauffeur, among many other things.