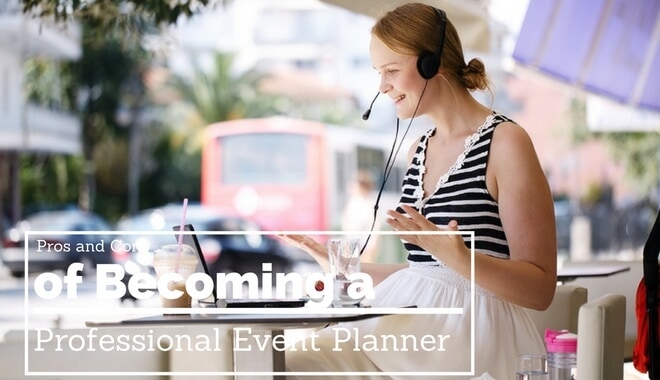 Professional event planners are responsible for coordinating all aspects of an event for their clients. Their job duties can range from developing a theme for a large, corporate event to procuring security for said event to planning the catering menu.
While professional event planning is often cast in a glamorous light, it is a profession that requires patience, organizational skills, self-confidence, and hard work, in addition to creativity and energy.
Like all professions, event planning has its own set of pros and cons. If you are trying to determine if this career field would be an ideal fit for you, read on to learn more about its benefits and drawbacks.
The Good
1. Event Planning Is a Growing Profession
---
The demand for qualified event planners is growing rapidly. According to the U.S. Bureau of Labor Statistics (BLS), the profession is expected to grow by 10% in the next decade, which will add approximately 9,900 new jobs.
Offshoots of event planning are meeting planning and convention planning – each of which is experiencing a growing demand. This provides a fair amount of job security.
2. A Minimal Educational Background Is Required to Break into the Field
---
Professional event planning is one of those rare professions that requires a minimal amount of education in order to launch a career. Success in this field is not defined by the type of training or education you have.
Rather, success is based upon your social and organizational skills, as well as experience. With that being said, a growing number of professional event planners are choosing to pursue bachelors' degrees in business, communication, and event planning because of the educational benefits the degree has to offer.
3. Free Travel Is Involved
---
If you are planning a corporate event in the Colorado Rockies or a destination wedding in Aruba, guess what? That means you get to go along too! The best aspect is that all of your traveling expenses are covered through the fees you charge for your operating expenses.
Even if you don't get to travel to exotic locales all the time, there will also be opportunities to sample gourmet cakes and foods when planning the menu for events.
4. There Are Always Opportunities to Meet New People
---
If you thrive off of meeting new people and cultivating new relationships, then this profession will greatly appeal to you.
5. Event Planning Is a Personally Rewarding Career
---
From wedding planning to corporate event planning, professional event planners report some of the highest levels of job satisfaction and fulfillment across all industries.
In addition to all of the perks the profession offers, the satisfaction an event planner derives from successfully pulling off a high profile event is second to none.
The Bad
1. The Hours Are Irregular
---
Event planning is definitely not a 9 to 5 job. Be expected to be required to work on weekends and some holidays. As the event you are planning draws closer, expect to work more than a few late nights overseeing the process of putting all of the details together.
The day of the event will require you to work, more than likely, from dawn to dusk.
2. The Profession Demands an Extraordinary Amount of Responsibility
---
Not only are you going to be responsible for your own duties in planning the event, but you must also oversee (and be responsible for) for the duties of others. For example, you will need to ensure that the caterer, lighting company, lodging facilities, etc. are all up to par.
If a vendor falls through, or fails to fulfill their duties, you'll be responsible for finding a replacement, even at the last minute. This can often be quite stressful.
3. There Can Be a Lack of Stability
---
This is especially true during the first couple of years of your career while you are just getting established. When you work as a freelance professional event planner, there is little job stability.
One month, you might be responsible for planning several weddings or corporate events, while the next two months are empty. Moreover, during times of economic tightness, event planners are often viewed as a luxury that is unnecessary.
4. Meeting Budgets Can Be Difficult
---
Remaining within the budget that a client has provided you can often be difficult for an event planner – even the professionals. It is not uncommon for the client's desired finished product to exceed what their budget can afford.
As an event planner, you then have one of two options to choose from: attempt to create the wanted outcome within the provided amount of money or report to the client that it cannot be done. Either option can be stressful.
If you are interested in becoming a professional event planner, don't let the cons on this list dissuade you from pursuing your dream; however, each aspect of the job that we've discussed should be given careful consideration.
One thing is certain: if you want an amazing and fulfilling career, being an event planner will certainly provide that.