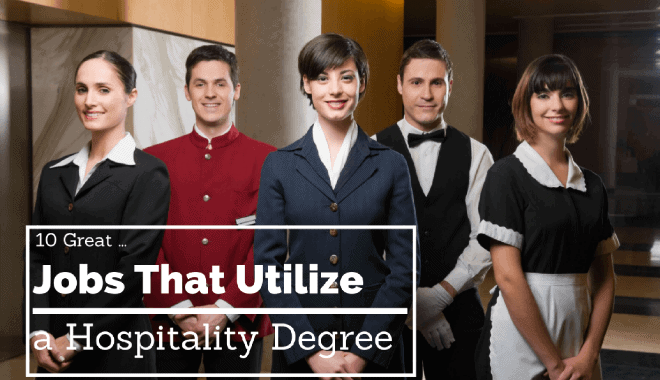 One of the most wonderful aspects of the hospitality industry is its diversity. Available positions range from housekeeping services to the CEO of a major chain hotel. In general, the industry is divided into three categories: hospitality, tourism, and travel.
Although people enter the hospitality industry for a variety of reasons, they all share one common factor: a passion for helping others enjoy their leisure time as much possible and interacting with others. If this sounds like you, then the hospitality industry might be a perfect fit.
Here are 10 different jobs that utilize a hospitality degree:
1. Hotel Manager
---
Also known as a lodgings manager, a hotel manager is responsible for creating a "home away from home" for vacationers and business travelers. They oversee the daily operations of a hotel for the front of the house and the back of the house. From ensuring that the premises are kept clean to fielding guest complaints, a hotel manager's job is never dull.
2. Event Planner
---
Meeting planners, special event coordinators, and event planners all share the same job functions. They organize and plan events for clients, and they oversee everything from catering to guest lists to the day's agenda. With so many details to organize, event planners must have a knack for organization.
3. Travel Agent
---
Travel agents perform a dual service. First, they assist clients in making arrangements for transportation, accommodations and excursions. Secondly, they also work with resorts, cruise lines, etc. to promote travel packages to the general public. Travel agents must be well-organized, meticulous, and accurate.
4. Purchasing Manager
---
Purchasing managers may work with restaurants, resorts, or any one of a number of hospitality related businesses. They are in charge maintaining inventory and ordering new supplies for the establishment they work for. If a purchasing manager works for a restaurant, he or she may be in charge of daily menu refurbishing and special events, as well.
5. Tour Directors
---
Although not typically thought of as a "hospitality" profession, tour directors also benefit from having a degree in hospitality. Not only must they have current and historical knowledge of their respected tour area, but they must also must have excellent verbal and written communication skills and customer service skills.
6. Gaming and Casino Supervisors
---
Gaming and casino supervisors and managers host events at casinos and manage their gambling floors. They must maintain the appropriate number of staff, contribute to marketing and sales, and promote customer service.
Casinos frequently have restaurant and hotel services within close proximity of the casino. These large organizations require hospitality minded managers and supervisors for consistency.
7. Human Resources
---
A degree in hospitality management qualifies you to work in human resources for a number of hospitality related industries, like spas, casinos, and hotels.
HR managers are responsible for all of the duties surrounding their employees. This list of responsibilities includes resolving conflicts between employees, hiring and training new employees, issuing paychecks, and overseeing benefits and compensation – amongst many other tasks.
8. Food and Beverage Manager
---
Food and beverage managers work with hotels, catering companies, restaurants, and in any establishment where food is served. The primary job function of a food and beverage manager is to oversee of all on property food services and restaurants.
This position entails managing inventory, tracking financial expenditures, customer service, ordering new supplies and food stuff, and human resources. Food and beverage managers must be patient and have knack for organizing and multitasking.
9. Regional Chef
---
Rather than working for a single restaurant, regional chefs are responsible for overseeing the kitchens of multiple restaurants within a specific region. The job responsibilities of being a regional chef include setting the menu for each of their restaurants, purchasing food across the system, and training new chefs and senior leadership on new menu items.
It is not uncommon to see the salaries for regional chefs with the right blend of education and experience to climb into the six figures.
10. Cruise Ship Director
---
Cruise directors do not have 9 to 5 jobs, but they certainly have interesting careers. They are primarily responsible for ensuring that guests are having a good time. These directors manage the social, rather than the technical, side of cruises.
In addition to offering hospitality and support to guests, cruise ship directors also plan and host events and do clerical work.