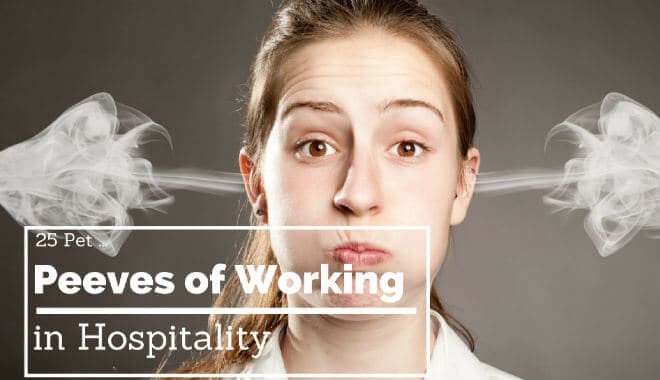 If you have ever worked in the hospitality field, even for just a DAY, then you are familiar with the aggravation and pain an unreasonable patron or rude customer can cause.
Whether you have worked in a family friendly chain restaurant or are the general manager of a four-star hotel, we all have our war stories to share. Here is a look at the top 25 most common pet peeves of working in the hospitality industry:
1. Restaurant and hotel employees are not second class citizens. A customer might be paying for a service, but this does not entitle them to be rude to the wait staff if the staff is not being rude to them. If you aren't in the mood to be pleasant, stay home.
---
2. If you are unhappy with something, tell someone. Hospitality workers can't read your mind. If you're unhappy with the way your food was cooked or are unsatisfied with your accommodations, say something. Politely speak up and ask the question.
---
3. Always tip 20%. Many hospitality positions are entry level, so employees are only making slightly above minimum wage. In some cases, as with servers, employees are making less than minimum wage. Don't be stingy.
---
4. Don't arrive at a restaurant five minutes before it closes. This applies to all eating establishments – whether fast food or fine dining. Chances are that the staff have already spent an hour cleaning, restocking, and setting up for the next day, and once you leave, they're going to have to do it all over again. Have some decency and stay home.
---
5. Don't talk about hospitality workers like they aren't even there. It's simply rude and shows a lack of basic manners.
---
6. You aren't entitled to upgrades or free perks simply because you've stayed at our establishment before. We cannot upgrade you to a suite or allow you to jump in line for something that is first come, first served – despite your claims to the contrary.
---
7. Guests seem incapable of understanding the phrase "We cannot guarantee your request, but we will do our best to accommodate". For example, if our hotel is booked at 90% capacity, we may not be able to provide you with the adjoining rooms you want.
---
8. Overt public displays of affection are unnecessary and disgusting. You are an adult, and you are out in public. No one wants to see you lick your date's face – regardless of how attractive you think you are or how much money you throw around.
---
9. If you have an allergy, tell your server before you order your food. Menus never list every single ingredient used – only the main ones. This is your diet and your health. Why would trust a total stranger to guess it correctly?
---
10. If you leave the "do not disturb" sign hanging on the door, housekeeping will pass by your room. We cannot know if you are in the room or not, so please do not call down to the front desk, irate, because fresh towels were not left in your room.
---
11. Do not snap at me. I repeat: Do.not.snap.at.me. I am a server, not your dog, and I won't respond to you.
---
12. Manners, manners, manners! Just because you are paying for a service, it doesn't give you the right to be rude or ill mannered. You'd be surprised at just how far a "please" and "thank you" can get you.
---
13. There is a special place in Hades for people who trash their hotel rooms. The horror stories that housekeeping staffs could tell you would make your toes curl. You don't live like this at home, do you? On second thought, don't answer that question.
---
14. Please do not pound on the front desk demanding to see a manager. Although it sounds like a caricature of "angry little man" syndrome, you'd be surprised at how often it happens. Acting like an ape is not going to resolve your problem any faster. In fact, it's going to make the hotel staff less inclined to assist you. I can't imagine how people live if something as little as a dirty glass in their room sets them off.
---
15. Don't interrupt me when I am assisting another customer. When you can clearly see that I'm engrossed with another guest, don't wave your arms at me, shout my name, or interrupt me. Just relax. I will be there momentarily.
---
16. Oversharing is a big problem. Your server or the masseuse at your hotel is not your therapist. This is the guest who feels compelled to regale a hospitality worker with a long-winded story or too much personal information about themselves. To be fair, this defect can also be found in poor servers.
---
17. Oblivious guests are a pain in the rump (e.g. when a guest has no idea that they are totally in the way). Whether you are staying in a hotel or sitting down to a meal in a restaurant, be mindful of your surroundings. If your bags are in the middle of an aisle, or you have the television in your room cranked up too loudly, it makes an unpleasant situation for all involved.
---
18. Don't name drop in an attempt to get free stuff or make yourself sound more important. If you are "all that", you don't have to tell me. Trust me, I'll already know. Humility is the new black.
---
19. Don't be a tightwad and try to make your own lemonade in a restaurant. It happens in eating establishments all across the country. Guests asks for a glass of water, and then ask for a ton of extra lemons. Then, they use all of the available sugar packets to make their own lemonade in a transparent attempt to save a couple of bucks on a drink. These are the guests you can usually count on to stiff you as well.
---
20. Guests who leave negative Yelp reviews as a passive aggressive form of "revenge". If you have a problem with your service or the food, speak up. Tell your server or manager while you are on site. This gives us the opportunity to remedy the situation.
---
21. Guests who assume all hospitality workers fall into a single stereotype are ignorant. Just because I work as a server does not mean that I'm a single mom with four kids and four different baby daddies who needs to "do something" with her life. What you don't know is that I'm working to put myself through college, and next semester, I'll be graduating at the top of my class. I don't do it to you, so please don't do it to me.
---
22. We would prefer to be home with our families on the holidays. In the hospitality industry, it's the nature of the beast. Sometimes, you are going to be required to work on holidays, so just because things aren't going your way on Christmas Eve, don't take it out on us. We'd much rather be home with our families than waiting on you.
---
23. Don't ask me for recommendations, and then ignore everything I say. If I'm in the middle of an explanation about my first recommendation for things to do while you're in town, don't interrupt me to ask about a specific attraction. If you want to know more about that specific attraction, just ask me in the first place.
---
24. Talking on a cell phone while you're interacting with a server, front desk agent, or someone else is just plain rude. Put your phone down for two minutes. It significantly decreases the chances that I'll misunderstand what you're saying. It's also disrespectful to the other person on the end of the line.
---
25. Manners. Have I mentioned how important manners are?