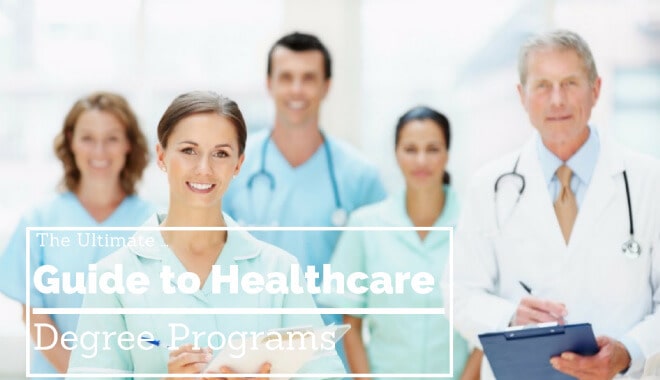 A healthcare administration or management program is designed to prepare an individual for a variety of lucrative and managerial roles within the healthcare sector.
For the last five years, healthcare has been one of the fastest growing industries in the United States, and it is showing no signs of slowing down. The job prospects for administrative healthcare professionals are many and bright.
For persons who want to be successful, and who have a desire to serve their community, graduating from an accredited healthcare administration/management program is promising.
What do Healthcare Administrators Do?
---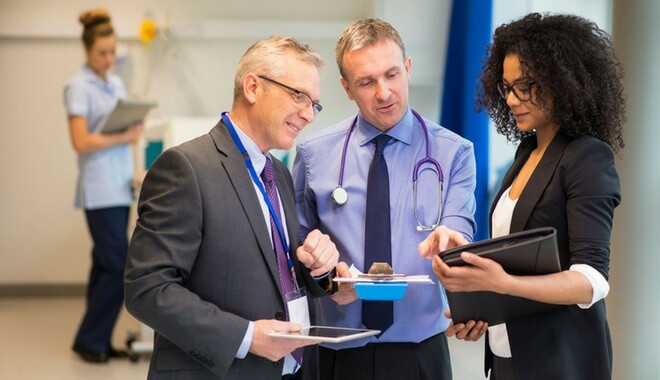 Most healthcare administrators work in medical facilities, like doctors' offices, nursing homes, and hospitals. They are primarily responsible for handling medical records, managing patient files, and performing other administrative duties, like case management.
However, they're specific job functions will depend on the organization they work for.
For example, a healthcare manager who works for the government or a public interest group will assist with policy development, planning, and implementation, while an administrator who works for an organization's human resources department would be responsible for recruiting and hiring new staff members, managing employee compensation and benefits, and provide job and safety training.
An increasing number of healthcare managers are now going to work for insurance agencies where they are responsible for health and injury related claims. Examples of job duties include conducting risk analysis and handling claims management.
Managers who enjoy working directly with people and who enjoy the sales industry are well-suited for working in medical sales.
What Does a Healthcare Administration Degree Look Like?
---
Most healthcare admin degrees are offered through a Bachelor of Business Administration program, but it is not uncommon to find schools who offer a Bachelor's of Science degree for the same major. Students may earn their degree full time or part time, on campus, online, or through a hybrid program.
In order to qualify for admission, students must meet all of the prerequisite educational requirements, which will include having one's GED or high school diploma.
The majority of healthcare management programs will require a student to complete 120 credit hours of study in order to graduate. Most programs have a foundation consisting of general liberal arts courses, and upper division courses will focus on the business side of things.
Most programs will require a student to complete some type of practicum during their program of study to obtain field experience. This is usually done via internships or senior projects.
Types of Healthcare Administration/Management Degrees
Associate Degrees
---
Associate degree programs in healthcare administration or management are generally hard to find; however, they are available. The coursework will generally focus more on general education courses, but will typically include 3-4 classes that focus solely on healthcare management topics.
After earning an associate's degree, a graduate will be qualified to work in support roles within healthcare admin field; however, if he or she wishes to pursue a management track, then they will need to earn their bachelor's degree.
Undergraduate Degrees
---
In general, healthcare administration/management degrees can be broken down into one of two types of categories: undergraduate degrees and graduate degrees.
At the undergraduate level, the coursework of a healthcare administration program will focus on strategic communication techniques and entry level management knowledge.
In some instances, students will study these topics, not as their own major, but as a concentration or specialization within a broader business administration program at the university they attend.
Programs are designed so that students obtain a comprehensive understanding of the modern healthcare system, including the specifics of the services that are provided and how to gauge the quality of these services.
Current and common issues in the healthcare field are studied as a means of developing critical thinking skills. Examples of topics that are commonly studied include personnel management, public health policy, marketing of health services, and ethical issues.
It is not uncommon for student to be required to take courses in research methodologies in order to encourage them to devise new solutions to current problems and to evaluate current trends.
Examples of the most common core classes healthcare management majors study include:
Economics
Business marketing
Financing for healthcare
Healthcare law and ethics
Human resources
The Importance of Undergraduate Internships
---
Graduate programs in healthcare administration, as well as prospective employers, place a premium on individuals who have hands on experience. Real world experience can be obtained through internships, study abroad programs, and student led projects.
Learning in the classroom offers many benefits, but there is value in putting the theory into practice. Not only can an internship lead to better employment offers, but they can also be used to leverage a better starting salary for entry level positions.
This is one of many reasons why it is important to choose a university or college that has a dedicated internship placement office.
However, students should not rest only on the laurels of the college they attend. They can also search for internships themselves.
The following are five excellent resources for students who are searching for internships specifically in healthcare administration:
Graduate Degrees
---
At the graduate level, the degree itself is much more independent of a university's business education program. Most graduate degree programs primarily focus on the evolving needs of the modern healthcare industry at large, as well the more specific needs of healthcare facilities and hospitals.
Students have a broader degree of autonomy in choosing which healthcare field they would like to specialize in. Common examples of graduate program concentrations include accounting, human resources, and healthcare policy and law.
These concentrations are studied from the perspective of healthcare, how it relates to patient care, organizational behavior, and so forth. It is becoming increasingly common for students to pursue MBA degrees with a concentration in healthcare.
In order to qualify for a graduate degree program, an applicant must have earned a bachelor's degree in healthcare administration (or a closely related field) and achieved qualifying scores on the Graduate Record Exam (GRE) or the Graduate Management Aptitude Test (GMAT).
For students whom English is not their first language, the TOEFL exam may be required. Graduate schools will also look at the extracurricular activities of a student, any internships or practicum experience he or she has, and how wisely they used their time as an undergraduate student.
There are also doctoral degrees available in the field of healthcare management and administration. Ph.Ds are generally pursued by those who desire to go into academia or who would like to obtain the highest position possible within their organization (e.g. CEO).
Both types of degrees are invaluable in the modern job market.
While there are positions at smaller healthcare organizations and some entry level positions at bigger corporations that only require a bachelor's degree, it is far more common for prospective employers to look for candidates with a graduate degree.
For this reason, most recruiters encourage job seekers to procure their graduate education sooner instead of later.
How Long Will It Take Me to Earn My Degree?
---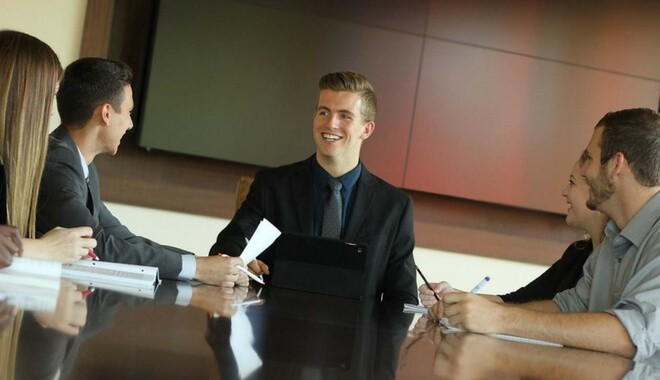 How long it takes an individual to earn their healthcare management degree is going to primarily depend on the university he or she chooses to attend and the type of degree they are seeking.
The amount of time one must invest in their education will depend on their prior educational achievements, the admissions process, their work status, and the availability of required courses.
In general, most degree programs follow these time frames:
A Bachelor's of Science in Healthcare Administration: 3-5 years
Master's in Healthcare Administration: 2-4 years
Ph.D. in Healthcare Management: 3-5 years
Jobs You  Can Get With a Healthcare Administration Degree
---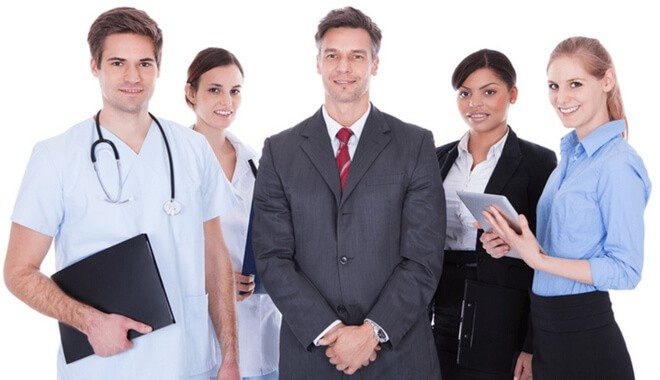 Upon earning a bachelor's degree and/or master's degree in healthcare administration and management, a graduate will be qualified to work in the following positions:
Hospital Executive: Executives are responsible for ensuring that a healthcare organization runs successfully and smoothly. They are often thought of as being the backbone of hospital services.
Healthcare Consultant: Professional consultants offer their organizational skills, knowledge, and expertise to a diverse range of healthcare facilities on an as needed basis.
Home Healthcare Administrator: These administrators generally oversee facilities that provide at home health services and aides. They are responsible for handling multiple demands from patients, the government, professional agencies, financial auditors, and their staff.
Emergency Medical Services (EMS) Administrator: In this position, an administrator coordinates with state agencies and hospitals in order to ensure that members of the community are provided with adequate access to emergency medical help.
Patient Safety Manager: This position is largely considered one of the most important in the healthcare industry because a PSM is responsible for ensuring that every patient is cared for in a manner that is compliant with state and federal regulations.
Who Hires People With a Healthcare Administration Degree?
---
According to the United States Bureau of Labor Statistics (BLS), healthcare managers and administrators are employed in a diverse number of positions.
The majority will obtain employment with healthcare organizations like clinics, hospitals, group medical practices, and nursing homes. According to the BLS, as of 2014, the major employers of healthcare admin grads are:
Private, local, and state hospitals
Residential and nursing care facilities
Ambulatory healthcare services
Outpatient and inpatient rehab facilities
Government
Physicians' offices
Private clinics
Health information departments
Professional Licensures
---
There are certain positions within the healthcare administration field that require professional licensure. For example, all 50 states require administrators who work in assisted living facilities or nursing homes to be licensed.
In order to be eligible for licensure, a candidate must possess a minimum of a bachelor's degree, complete a training program approved by the state, and achieve a passing score on the licensing exam. A certain amount of ongoing education may be required in order to keep these licenses current and valid.
Although not specifically required, voluntary licensure is available for individuals who work as health information managers. The professional license is available through the American Health Information Management Association. In order to earn the credential, an applicant must have a bachelor's degree in an approved subject.
What to Look for in a Healthcare Administration Program?
---
When it comes to choosing which university or college one should attend for their degree, there are several important factors that must be taken into account.
Of course, scheduling needs and financial concerns should be taken into account, but one should also consider their long term career prospects. Taken the following factors into account can help a person choose the ideal program that suits their needs:
1. Are They Accredited?
---
Accreditation is important. Most employers are going to regard a degree from a non-accredited college as almost worthless. Research which accrediting bodies have given their seal of approval to the school.
More specifically, look for programs that have been accredited by regional higher education organizations and associations, especially those with national prestige.
Regional accreditation is important; however, the most respectable programs will be those that have earned specific program accreditation based upon the outcomes achieved by their graduates within a specific healthcare management program.
Just a couple of the most well-regarded program specific accreditation bodies are The Association to Advance Collegiate Schools of Business and The Commission on Accreditation Healthcare Management Education.
2. What Resources Does the University Have to Offer?
---
Does the college being considered have a dedicated student internship department or a career placement office? Are professors available enough throughout the work week to answer students' questions and emails in a timely fashion?
Does the college offer both online and on campus courses? How streamlined and easy to use is the school's website?
These are just a few questions one should consider when evaluating what services a school has to offer, and they are the ones that will add value to one's undergraduate education and enable a student to derive the most benefit from their time at the university.
Furthermore, these are key resources that should never be compromised on, even if they seem insignificant, when a student is searching for the best healthcare administration program.
3. How Is the School Ranked?
---
While rankings alone shouldn't be the only factor one considers when choosing an undergraduate healthcare management program, they do offer valuable insight into how the school operates.
The most common metrics used to evaluate school rankings include how challenging the coursework is, the cost of tuition, the number of opportunities a student has to gain real world experience while at school, and their post-graduation job placement rates.
Two of the most reliable ranking systems in the U.S. are the Princeton Review and U.S. News & World Report.
The Job Outlook for Healthcare Administrators and Managers
---
Thanks to a healthy and growing healthcare industry, the job prospects for healthcare administrators and managers is excellent. According to the BLS, through the 2012-2022 decade, the demand for qualified managers and administrators is expected to grow by 23%.
The BLS notes, that for entry level positions, only a bachelor's degree is required. For all positions in the healthcare administration field, the median salary is $92,810.00. This roughly equates to an hourly wage of $44.62. However, an administrator's annual salary will be affected by a number of factors.
What Factors Affect a Healthcare Administrator's Salary?
---
First and foremost, rank and position will affect an administrator's salary. Because professionals in healthcare management can be employed in a diverse range of positions, each one has different levels of responsibility and rank.
Entry level positions, like managing a single sub-group or department within a medical facility, generally earn the lowest salaries, while those who command the highest salaries are the individuals responsible for creating company strategies or managing company plans.
These individuals usually hold masters' or doctoral degrees.
Secondly, a healthcare manager or administrator's salary will be affected by the type of education he or she has. Those who have masters' or doctoral degrees are more quickly promoted into senior level positions.
Not only does a graduate degree have a direct connection to monetary compensation, but it affects a candidate's competitiveness for promotions, raises, and increased responsibilities within a role.
Finally, salary will be affected by the size of the medical organization that a healthcare administrator works for.
On the whole, smaller facilities generally require the services of only a handful of administrators, and on average, the pay is slightly less than the national average because these organizations have fewer resources to work with.
The job duties of the administrator are also more limited in scope. Insurance companies and larger hospitals tend to offer the highest compensation, but they also expect their admins to be highly skilled and trained and capable of handling many tasks at once.
The size of a practice or facility has a direct correlation to the salary a manager is paid.
In Conclusion
---
Regardless of what healthcare specialization a person wants to work in, he or she must be proactive if they wish to secure their dream job, and the work starts before they ever step foot onto a college campus. What this means is that they must learn as much as possible about the healthcare profession.
The competition only grows fiercer when you start looking for positions in upper management and at the executive level. However, for those who have the drive and passion to achieve their goals, the first step begins with finding the best healthcare administration program for them.